Editing a Wiki Article
To bring up the wiki markup editor, just tap on any Mediawiki edit link.  Any link that would normally bring you to the small web form now slides up a full-screen keyboard friendly editor.
The toolbar across the top of the edit screen looks like this:

From left to right:
1) The Save button saves your changes
2) The Preview button displays a preview of the edited page — it gives you the option to Save, Re-Edit, or Cancel from there.
3) You can type a summary of your changes here, for example: "Fixed spelling", or "Added Section xyz"
4) You can indicate if the edit was minor by tapping the Minor checkbox.  (tap again to toggle it)
5) The Watch checkbox can be checked if you want this page added to your personal Watch List.
6) Finally, if you don't want to save your changes, you can tap Cancel.
Wiki Edit supports bluetooth keyboards. You can use the arrow keys to move around, and the command key movement shortcuts:
[Command] Left Arrow – start of line
[Command] Right Arrow – end of line
[Command] Up Arrow – top of page
[Command Down Arrow - end of page
You can also use the copy and paste shortcut keys while editing markup.
[Command] C  - to copy
[Command] V – to paste
[Command] X – to cut
[Command] Z – to undo
If you need to reference another program while editing a Wiki article, go ahead. Wiki Edit will remember your edit, and resume exactly where you left off.
Previewing Your Edits

When you tap the "Preview" button from the editor screen, you can preview your changes. The "Preview" button is replaced by a button labeled "Re-Edit". Tapping "Re-Edit" will return you to the editor.
Links and buttons on the page you're previewing are not active, so you don't accidentally navigate away from your work in progress.
The other buttons in the Preview Toolbar work the same as on the Edit Toolbar.
Protected Articles and Viewing Source

At times articles are locked, protected, or otherwise restricted from editing.  Wiki Edit will let you view the wiki markup for those pages. This is useful when you need to copy and paste a section from one page to another.
Tap Cancel to close the source view and continue browsing.
Editing Conflicts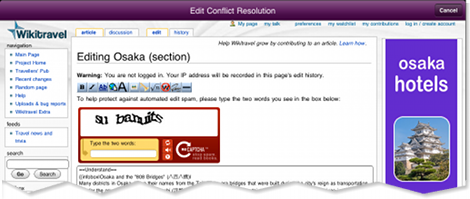 Sometimes when you save your change, an editing conflict will occur. This might be because someone else edited the same section of the article while you were editing.  Or it might be because the site wants you to fill out a "fuzzy letter" CAPTCHA to prove you're a human.
When your changes are rejected by the wiki, Wiki Edit will display the problem on the Editing Conflicts screen.
Follow the instructions on how to clear the conflict and save your changes. If you decide you don't want to save your changes, you can tap "Cancel" to abandon your changes.