Using Wiki Edit
Wiki Edit is an enhanced web browser designed to make navigating and editing MediaWiki-based sites easier.
As you browse the web, it automatically detects sites running MediaWiki software. To edit an article, just tap any of the edit links on a wiki. Wiki Edit will automatically slide the full-screen editor up and display the wiki markup for you to edit.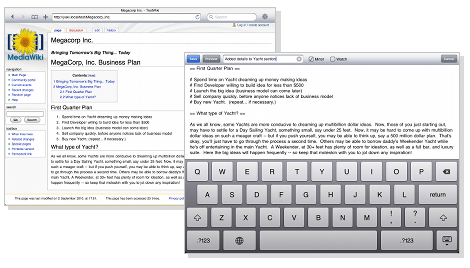 If you would like more detailed instructions you can:

Read about Browsing Websites and Wikis with Wiki Edit.
Read about Editing a Wiki with Wiki Edit for iPad.
Still have questions? Read the Wiki Edit for iPad Frequently Asked Questions (FAQ). The FAQ has troubleshooting tips and ways to contact Wiki Edit with questions or requests.
---
Acknowledgements and Notices:
Apple, the Apple logo, iPhone, iPod touch, and iTunes are trademarks of Apple Inc., registered in the U.S. and other countries. iPad is a trademark of Apple Inc. App Store is a service mark of Apple Inc.
Wikimedia, Wikipedia, Wikibooks, and Wikiversity are registered trademarks of the Wikimedia Foundation.
Wikia is a trademark of Wikia Inc.
MediaWiki is open source software licensed under GPL. The Wiki Edit App does not contain any code from the MediaWiki project. The MediaWiki flower and Logo are under CC BY-SA and public domain respectively. Wiki Edit is not affiliated with the Wikimedia Foundation, Wikia Inc., or the MediaWiki open source project.
Da Kine Apps is a trademark of Don Kosak dba Da Kine Apps, Hawaii, USA.